English content
The most notable abuses that took place during April 2022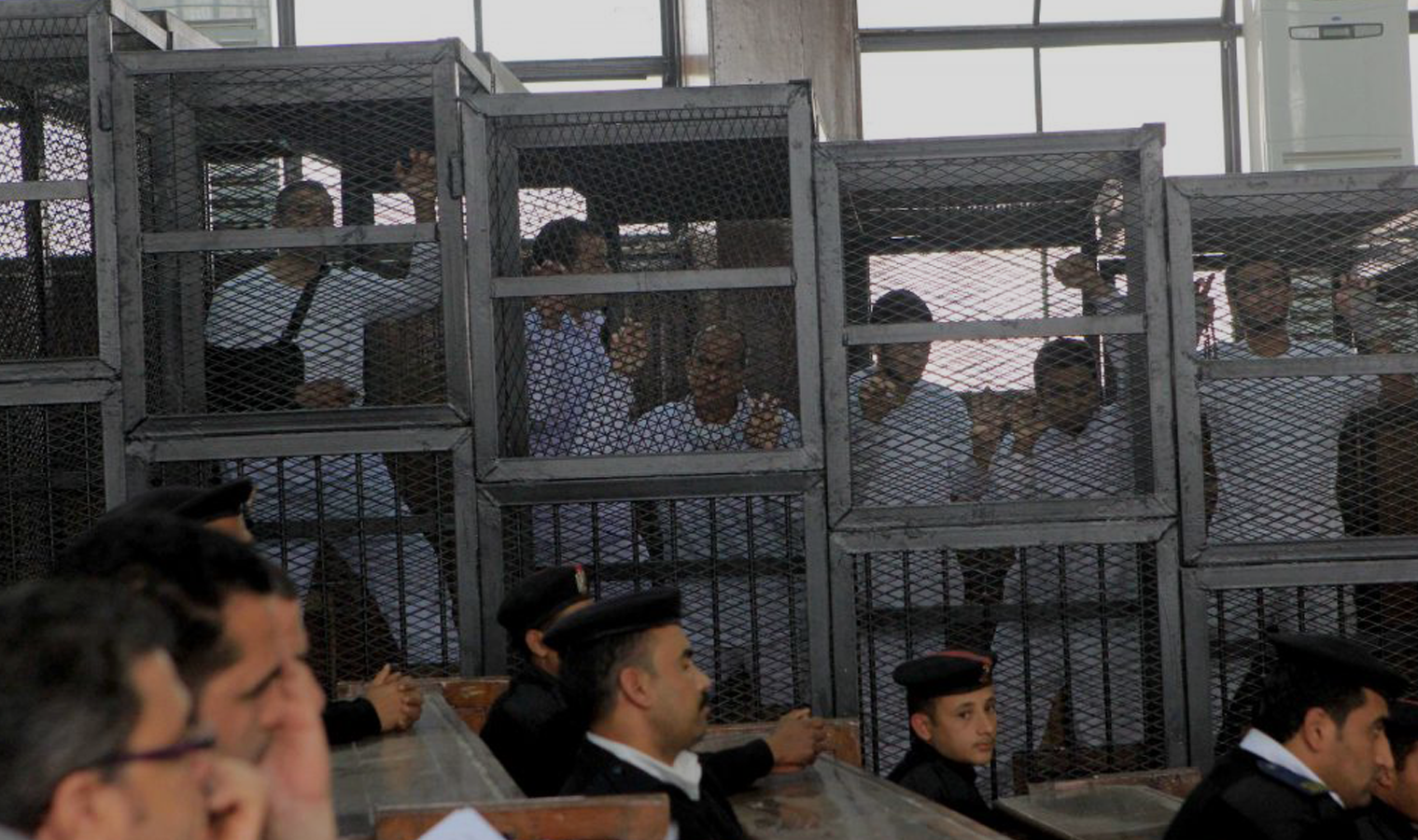 The most notable abuses that took place during April 2022
Summary:
The Sinai Foundation for Human Rights documented multiple abuses during April 2022 in which trials could be described as lacking the standards of fair trial were held, where defendants appeared before the prosecution after periods of enforced disappearance, and some of them were deprived of their right to an attorney to be present during their interrogations. A woman was also subjected to enforced disappearance by the Ministry of Interior despite her release being ordered by the Egyptian Public Prosecution.
On the other hand, three abuses by the Sinai Province group were committed during April, as a child and a man were injured during an armed attack in western Sinai, and a civilian was abducted and interrogated before being later released. Further, three civilians who had been abducted by ISIS were released after their families were forced to pay large sums of money as ransom.
Details of the abuses
Egyptian law enforcement forces abuses:
Trials lacking the standards of justice
The Sinai Foundation for Human Rights monitored the trials of 13 civilians from Sinai which lacked the standards of fair trial. The Supreme State Security Prosecution in Cairo proceeded to investigate one woman during the past months, and in April 2022, the prosecution ordered her release, however, security forces refrained from executing the release order and subjected her to enforced disappearance. 12 civilians also appeared as defendants before the Supreme State Security Prosecution after periods of enforced disappearance, and the prosecution denied 10 of them their natural right to an attorney to be present during their interrogations.
The first incident
The foundation's legal team documented the enforced disappearance of Hind Khalil Abdulghany Mohamed, 39, resident of Nakhl town in central Sinai. Security authorities refrained from executing the order of the council chamber that took place at the criminal court, third terrorism chamber, on 14 April 2022, ordering her release with precautionary measures and requiring she visits the police station at which she is registered twice a week, on Sundays and Wednesdays, from 3 till 7 PM. The foundation team documented that the authorities in the first police station in Arish mark Hind in official papers as an "evader" of precautionary measures, holding her legally accountable, and relieving the police station of the legal accountability of her enforced disappearance.
Hind had been arrested on 22 May 2021 while travelling from Arish to Cairo to visit her husband who has been imprisoned in Tora prison since 2004 after what is called the "Taba attacks". Hind contacted her family before her arrest when she was being searched at a security checkpoint near the Suez Canal ferry in Qantara town east of Sinai, and she told them that she was stopped, searched, and interrogated by security officers and that they told her to wait for the results of the security check. Hind's family did not expect that she would be detained as they were used to the indiscriminate stopping of civilians while they used the ferry leaving or going to North Sinai for years. However, they were surprised by another call from Hind an hour after the first call, telling them that a national security officer asked her to go with him for investigation, reassuring her that she would not be detained and that she would return home in two hours at the latest. What happened though was that Hind's phone was switched off an hour later and was not switched back on again.
Hind's family could not manage to learn anything about their daughter's fate, as they asked about her in official detention centers near where she was arrested and near her place of residence, because a family member asked about her in the national security base in Arish and was told that no one is detained at national security bases and advised him to go to the police station where their place of residence is registered and file a disappearance report, and he was warned not to go near the national security base in Arish again. Hind's family took all possible legal actions to try and keep her alive, and they learned later from an attorney that Hind appeared before the Ismailia prosecution on 19 June 2021 after a month of enforced disappearance, as she spent the first few days of her detention at the national security base in Ismailia, then was transported to the national security base in Arish till she appeared before the Ismailia prosecution pending case number 424 for the year 2021.
The Ismailia prosecution decided the continuation of Hind's detainment for four days pending investigation, and according to one of the attorneys who were present during Hind's interrogation, the prosecution's questions revolved around her three brothers who were killed in 2017 while fighting alongside ISIS in Sinai. Days after Hind was brought before the Ismailia prosecution, her release was ordered on 23 June 2021, however, the relevant authorities refused to execute the order. Hind's family learned that she was unofficially detained for four months in the first police station in Arish, then was transferred to an unknown location on 26 October 2021, where she remained subject to enforced disappearance. Hind's family knew nothing about her fate after that, as all official centers at which the family inquired denied Hind's presence, and the family was told by an officer at the first police station - where Hind disappeared for four months - that they executed the prosecution's order and she was released from the station, and that they were not responsible for her escape from her family.
Hind's family received unofficial information that she was at the Qantara police station in Ismailia, and this information was confirmed by several people who were recently released who said they met her inside the station. Hind's family went to the Qantara police station where Hind's presence was denied, and it was stressed that her name is not on official lists of defendants present at the station. Later on 2 November 2021, the family unofficially learned once more that Hind was transferred for a third time to Abu Suwir police station in Ismailia where she was detained for one day before being brought before the State Security Prosecution in Cairo on 3 November 2021 with a new arrest report, pending a new case numbered 1935 for the year 2021, charged with joining a terrorist group. The Sinai Foundation learned through an attorney that Hind stated during interrogations before the prosecution that during 6 months of unofficial detention, she was subjected to torture, beating, and electrocution to sensitive parts of her body.
The prosecution decided on her precautionary detention pending the case and she was transferred to Qanater women's prison. 15 days after Hind's appearance before the prosecution, a member of her family visited her, and during the visit, Hind said that she was subject to torture and sever beating during her unlawful detention, and that the interrogations during her torture revolved around one of her relatives and her brothers who were involved with an armed group in Sinai and were killed during the war in 2016 and 2017, and that she was also asked about her husband who had been imprisoned since 2004 in relation to the case known in the media as the Taba attacks. Hind told her interrogators that her husband had not received a sentence till then after the death sentence he had received was overturned, and that he had been in preventative detention for close to ten years and that he knew nothing about that case, and that she had no relations with any members of armed groups or people who engage in acts of violence.

After 6 months of preventative detention pending the case, on 14 April 2022, Hind's release with precautionary measures was ordered by the council chamber that took place at the criminal court, third terrorism chamber, however, her fate is still unknown as her family does not know her whereabouts since she received the release order and till this report was written, as the relevant authorities refused to execute the release order and instead detained Hind in an unknown location.
Hind's family asks security authorities to state where she is being held, and they call upon the authorities to return her to her four children, as she has been the sole provider for them since their father was arrested in 2004. The family also hold the security authorities accountable for Hind's wellbeing after they learned of her being subjected to torture and her inhumane detention conditions.
The second incident
The foundation's legal team documented on 17 April 2022 the appearance of the defendant Hussein Suilem Salama, 55, from North Sinai, before the prosecution, pending case number 400 for the year 2022, after 86 days of enforced disappearance, as Hussein was arrested on 21 January 2022.
The foundation learned from an attorney that Hussein stated during interrogations before the prosecution that he worked in a land in Wady Ras Sidr beside his work at a private quarry. He also stated that he had no relations to any violent or political events, and that his relationship with politics stops at his participation in the elections that took place after the 25 January revolution and that he voted for the previous presidential candidate Ahmed Shafik, and that in the first elections after the 30 June revolution, he voted for the current president, Abdel Fattah el-Sisi, and that he also voted in the parliament elections. He added that he only prays and fasts but has no connection to any Islamist or terrorist groups.
In the details of his arrest, Hussein said that he was arrested on 21 January 2022 with his brother while driving through a ministry of interior ambush in Saaida area near Ras Sidr in South Sinai heading to visit their younger brother. He added that the police took only him to the national security base in Ras Sidr, and that he did not know if his brother was released or not. The prosecution charged him with joining and providing logistic support to a terrorist group and confronted him with the exhibits attached by the arresting officers, which were a pistol and a machine gun. Hussein denied knowing of the exhibits, having them, or seeing them before that moment. The prosecution decided on continuing his detention for 15 days pending investigations.
The third incident
The foundation's legal team documented on 18 April 2022 the appearance of Mohamed Qinawy Abdulaziz, 55, pending case number 400 for the year 2022 after 69 days of enforced disappearance.
The foundation learned from an attorney that Mohamed stated before the prosecution during interrogations that he had been arrested on 9 February 2022 at the Serapeum ferry ambush in Ismailia after he was asked by a low-ranking police officer for his ID to investigate him, then an altercation happened between them as Mohamed refused to wait because his wife was sick. Mohamed and his wife were detained inside a room, then his wife was asked to leave, and Mohamed was transferred to the Ismailia Security Directorate where he remained till he was brought before the prosecution.
Mohamed stated before the prosecution during interrogations: "I have nothing to do with politics or any groups, and I never participated in any events. When I was at state security, the officer interrogated me and told me that I was in contact with takfiris and I financially supported them, and I told him that that money was from a partnerhand; because I had 2500 pounds and I was driving a Suzuki I owned but the license was not in my name".
The prosecution charged Mohamed with joining and financially supporting the Sinai Province group while he denied the charges, and the prosecution ordered him to 15 days of preventative detention pending the investigation.
The fourth incident
The foundation's legal team monitored the appearance of 10 defendants before the Supreme State Security Prosecution in Cairo between 6 and 18 April 2022 pending case number 400 for the year 2022. The prosecution refused to grant the defendants their legal rights and refused to allow attorneys to be present with them during interrogations despite the attorneys' presence at the prosecution base, in addition to not attempting to assign attorneys to be present with them. The defendants are:
1- Ahmed Foad Ahmed Mohamed Saleem, 28, appeared before the prosecution on 16 April 2022.
2- Mohamed Himdan Salem Himdan, appeared before the prosecution on 13 April 2022.
3- Ahmed Allam Ali Hanafy, 34, appeared before the prosecution on 13 April 2022.
4- Salama Saleem Suliman Saleem, 28, appeared before the prosecution on 9 April 2022.
5- Samir Mohamed Awad Zaid, appeared before the prosecution on 12 April 2022.
6- Tariq Ahmed Salem, appeared before the prosecution on 6 April 2022.
7- Mohamed Ahmed Hussein Muhsin, appeared before the prosecution on 14 April 2022.
8- Mousa Abdullah Saleem Salem, 21, appeared before the prosecution on 16 April 2022.
9- Yusry Abdulaziz Mohamed Suliman, 24, appeared before the prosecution on 9 April 2022.
10- Eid Aiad Mohamed Kamil, 45, appeared before the prosecution on 10 April 2022.
Legal Analysis
The foundation's legal team managed to monitor three legal violations to which one woman and 12 defendants were subjected during April 2022 where Egyptian investigation authorities proceeded to interrogate a woman after she was subjected to a period of enforced disappearance, in addition to the criminal court in Cairo's decision to release her after she was charged with joining a terrorist group "Sinai Province" and adopting takfiri thought, according to National Security investigations, however, she was once more subjected to enforced disappearance.
Looking at what the defendants stated during the interrogations, and according to statements acquired by the foundation from the victims' families, there is no doubt that many infractions and violations considered crimes in the eyes of the Egyptian law took place, in addition to the prosecution's violation of the most simple rules and procedural guarantees stated by the Egyptian law, especially in the case of initial investigations.
First: The detainment of arrested individuals without permission from the relevant judicial authorities for longer than the legal detainment period.
Article 54 of the Egyptian constitution states that: "Personal freedom is a natural right which is safeguarded and cannot be infringed upon. Except in cases of in flagrante delicto, citizens may only be apprehended, searched, arrested, or have their freedoms restricted by a causal judicial warrant necessitated by an investigation. All those whose freedoms have been restricted shall be immediately informed of the causes therefor, notified of their rights in writing, be allowed to immediately contact their family and lawyer, and be brought before the investigating authority within twenty-four hours of their freedoms having been restricted…".
Article 36 of the Egyptian Code of Criminal Procedure states that: "The criminal investigation officer shall immediately hear the statements of the arrested suspect who, if he fails to establish his innocence, shall be brought before the office of the competent public prosecutor within 24 hours. The office of the public prosecutor shall question him within 24 hours, after which it shall order either his remand in custody or his release".
Article 40 of the same code states that: "No one shall be arrested or detained except by order of the legally competent authorities. Any person who is arrested or detained shall be treated in a manner conducive to the preservation of his human dignity and shall not be subjected to physical or mental harm".
Second: The centers where they were detained were as they stated during public prosecution investigations inhumane, and they were subjected to emotional and physical stress there. In addition, the centers are not supervised by the public prosecution and are not specified in the Prison Regulation Law or its amendments.
Second: The detainment of arrested individuals in unofficial detention centers which fall under no judicial supervision.
Article 41 of the Egyptian Code of Criminal Procedure states that: "No person shall be detained except in designated prisons. No warden shall accept any person without an order signed by the designated authority which is the general prosecution, and they are not to be detained beyond the time period specified in the order."
Article 42 of the same code states that: "Members of the Department of Public Prosecutions and presidents and vice-presidents of courts of first instance shall be empowered to inspect the public and central prisons situated within their areas of jurisdiction in order to ascertain that no one is being detained unlawfully. They shall have the right to examine prison records and arrest and detention orders, take copies thereof, contact any detainee and hear any complaint that he might wish to submit to them. The prison governors and staff shall provide them with any assistance needed to obtain the information that they request"
Article 1 bis of the Prisons Regulation Act No. 396 of 1956 states that: "Any person who is detained, arrested, taken into custody or deprived of his freedom in any other way shall be committed to one of the prisons indicated in the previous article or in one of the places specified by a decision of the Minister of Interior and in respect of which all the provisions of the law apply, provided that the right to their access as stipulated in Article 85 shall be accorded to the Public Prosecutor or the person he deputizes from among the staff of the Public Prosecution with a rank not below that of Chief Prosecutor."
Third: The prosecution deliberately prevents the defendants' attorneys from accessing investigation reports and the evidence the prosecution uses as a basis for detaining the defendants so the attorneys could refute or comment on them during their defense.
The ten defendants discusses in the third incident had no attorneys present with them, and the investigative body did not allow them to contact their family and attorneys, and instead only used the repetitive preamble in which it is stated that it sent a representative to the base of the Bar Association and found it closed, while the defendant interrogations take place between one and three in the evening which is a time in which a large number of lawyers are present in the Association which is considered to be a circumvention by the prosecution of the defendant's rights to a lawyer with her during interrogations as dictated by the constitution and the law.
Article 125 of the Code of Criminal Procedure states that: "The lawyer shall be given permission to examine the case file on the day prior to the interrogation or the confrontation unless the judge decides otherwise. In no case may the accused persons be separated from their lawyer who shall be present during the questioning."
Article 124 of the Code of Criminal Procedure states that: "In cases of felonies and misdemeanors which are punishable by prison, no investigator may interrogate a suspect or confront said suspect with other suspects or witnesses unless their lawyer is summoned, except in cases of flagrante delicto and urgency out of fear of loss of evidence. The suspect shall state the name of the lawyer thereof in a report written at the court registry or to the warden of the prison, or to the investigator. The lawyer may also do so himself. If the suspect has no lawyer or their lawyer does not show up after being summoned, the investigator is to assign the suspect a lawyer and the lawyer is to document in the report their objections, requests or notes."
The Egyptian legislator guaranteed all defendants or victims' right to an attorney, as well as a defendant's right to choose their attorney, and no authority has the power to intervene regarding that choice, therefore, if a defendant chooses an attorney, states their name, and notifies the investigator, the investigative body must comply with the defendant's request. The right to an attorney also is not related to a certain stage of prosecution, it rather starts at the evidence collection process, through the initial interrogations, ending with the final interrogations conducted by the prosecution, which is the interrogation on which the whole investigation and prosecution process depend.
The legislator excluded two cases from the obligation to have an attorney present with the defendant during initial interrogations, which are flagrante delicto and urgency out of fear of loss of evidence, however, those two cases cannot be used as cause in this case for multiple reasons:
1- The defendants were arrested a while before they were brought before the public prosecution, therefore they were not caught in flagrante delicto, they were rather arrested based on information and investigations followed by the prosecution allowing the investigators to arrest them. Hence, their arrests were in no way the case of flagrante delicto dictated by the legislator as a case where the investigation authority is to proceed with interrogations at once in the absence of an attorney.
2- The defendants were arrested based on investigations whose results are in the possession of the investigator, therefore, it is information that cannot be lost and there is no fear of it changing with time or losing its traces, requiring urgency in starting interrogations in the absence of an attorney. Consequently, the investigation authority cannot use the two cases that allow starting interrogations in the absence of an attorney with the defendants as an excuse, alternatively, the investigator should have assigned attorneys to be present with the defendants and should have allowed them to contact their families.
What was presented shows how the interrogating authorities dealt with the defendants and ignored their statements during the interrogations on their unlawful detention for varying and long periods of time. It also shows how they dealt with what the defendants faced during these periods of abuse by violating the Egyptian Constitution, the Code of Criminal Justice, and the safeguards for initial investigations.
ISIS-affiliate group, Sinai Province, abuses
The injury of a child and a civilian by ISIS shots during an armed attack in Bir al-Ab
The foundation team monitored on 1 April 2022 the injury of a child and a civilian by ISIS shots during an armed attack by the group on Humaisa village. In detail, On Saturday at 10 PM, 3 armed ISIS members snuck into Humaisa village in southwestern Bir al-Abd and raided Hassan Abu-Maaly al-Aqaily's house, a member of a pro-military tribal group.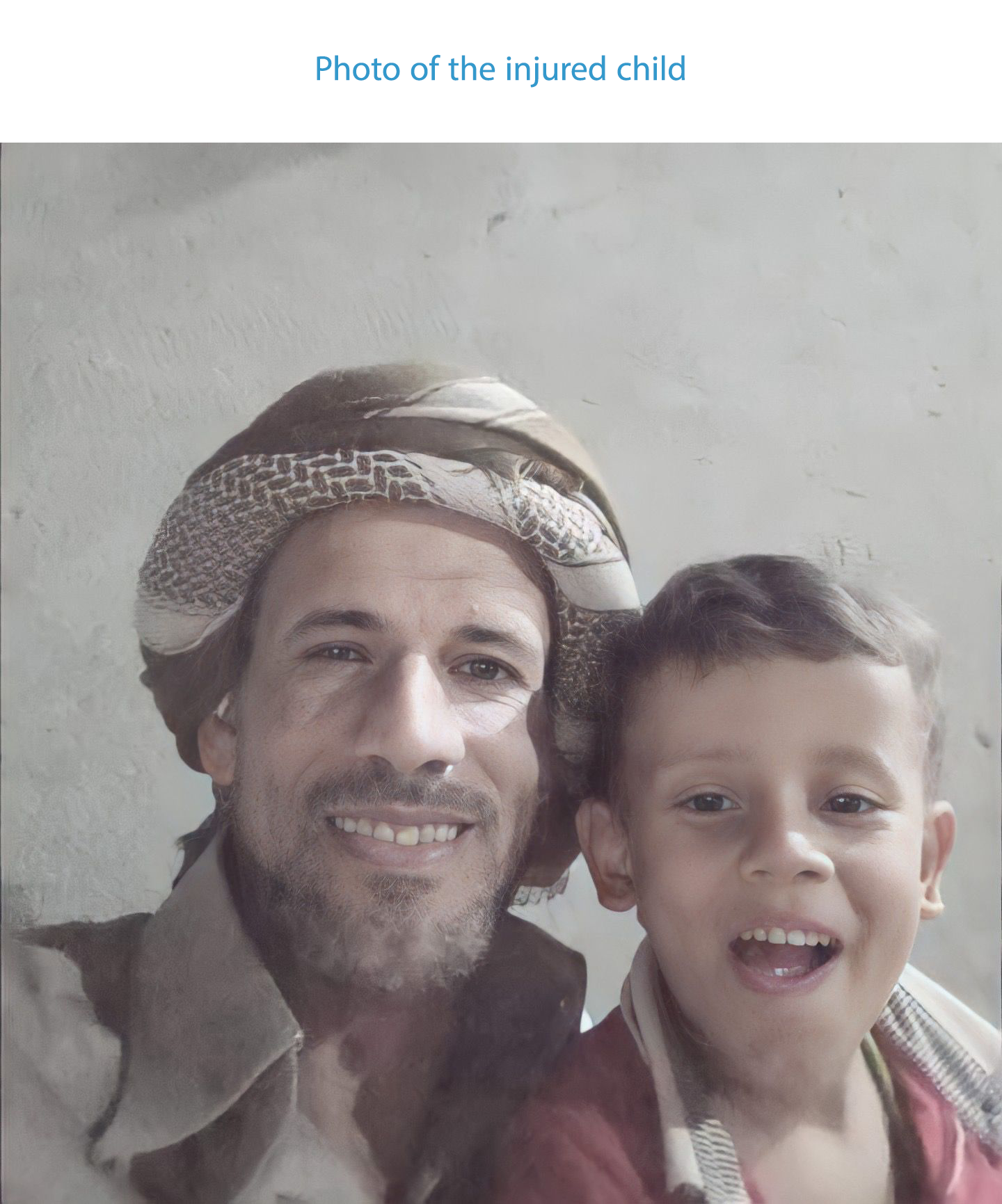 ​​​​​​​The armed men attempted to abduct Hassan and force him to go with them, but he fought them off and tried to reach his personal weapon, so the armed men started shooting him before his family, killing him instantly. During the attack, Hassan's five-year-old son, Abu-Bakr, received a severe injury to the stomach, and his cousin Daifallah al-Aqaily, who happened to be at the house at the time of the attack received an injury to his foot. An hour after the attack, the injured were transferred to the hospital to receive treatment.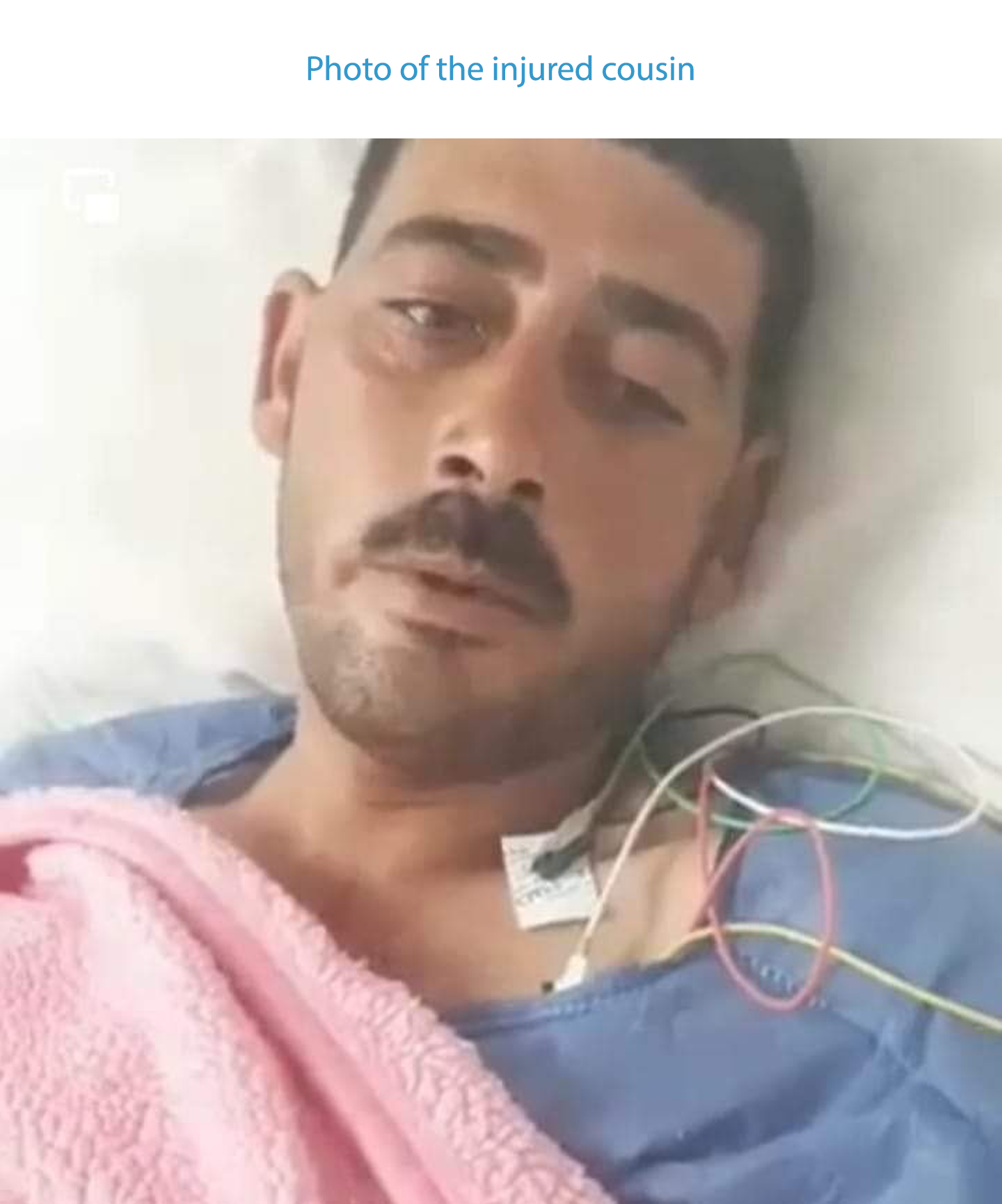 On the day following the attack, ISIS claimed the attack through the group's official sources, revealing in the statement that the group targeted a member of "pro-military militias" and killed him and claimed his weapon. However, the group did not mention the injury of civilians during the attack in its official statement.

​​​​​​​The abduction and murder of civilians in Bir al-Abd
The abduction of civilians is a widespread recurring pattern of abuse in Sinai. ISIS group is used to abducting civilians and keeping them for long periods of time as part of a strategy it follows with the aim of asserting its dominance and punishing anyone it deems as supporters of the Egyptian authorities. It is worth mentioning that the Sinai Foundation for Human Rights had documented during 2021 multiple civilian abductions and murders by ISIS who claimed that the civilians offered services to the military, as the group's militants consider any service or help for security services to be hostile actions against the group. Such services include working on military construction projects or at military factories, as well as transporting supplies or fuel to military members in military ambushes in some volatile regions. For example, the foundation documented during February 2022 the abduction of five civilian workers, claiming that they worked at Egyptian military projects.
The foundation's legal team documented on 6 April 2022 the abduction of three civilians from Musafaq village in eastern Bir al-Abd by armed ISIS members. According to local eyewitnesses, around 10 armed men attacked the village on the morning of Wednesday, 6 April, while other armed men covered the entrance to the village. The militants roamed the village and attacked several houses belonging to people of interest to the group, and abducted three civilians: Mohamed Aied Abu-Malih, Ibrahim Aied Abu-Malih, and Hassan Abu-Hussein. ​​​​​​​The foundation team met with one of Hassan Abu-Hussein's relatives to find the details of what happened. He said:

Hajj Hassan is an old man who has nothing to do with any of what is happening and he does not cooperate with neither the military nor militants, He prays god cleanses the area of terrorists so people could go back to their lands and he is sad about the situation in Sinai, but he does not work with or talk to anyone. He's an old 60-year-old man, how would he work with the military or hold a gun to fight terrorists? What happened was, on Wednesday, at 6 AM, armed militants went to Mohamed and Ibrahim's house to forcibly take them. Older people pray Fajr and stay awake, so when loud noises erupted, Hajj Hassan went to see what was going on, so they told him to get in the car and took him along. They did not knock on his door or ask about him, they didn't want him, he just went to see what was happening, so they took him.
He added:
​​​​​​​We have heard about many men who were taken then let go, so we have hope that they might release him. They did not want him, and he has no relations with anyone in the military. All we want is for them to let people be. People left their lands and all their savings and are living in coops; they can't live when terrorists slaughter them and film it. It's not fair finding dead bodies in the streets or not finding the bodies to bury. And the area they leave behind, they leave mines that explode in kids or youths still in school or even women. They're not letting people of Sinai live, it's like we're not human. What rights do you speak of? Do these people know of human rights?.
The witness continued:
People want a home where they can live or a roof over their heads. People want to live without being taken in for investigation or the sick dying on ferries while kept there in herd-like groups for hours, and you never know what they're investigating. I swear, people only want to live.
Six days after the abduction, on 12 April 2022, the group released one of the three abductees, Hajj Hassan Abu-Hussein, while the brothers' fate remained unknown.
Later, on 22 April 2022, the group officially claimed the abduction of the three civilians through its al-Nabaa magazine, issue number 335. The group stated that some of its members went to Musafaq village in eastern Bir al-Abd by the highway on the morning of Wednesday 6 April 2022, and that they spread through the village for a period of time in which they attacked two houses belonging to two people wanted by the group, and they captured three people. The group revealed that two of the captives were killed for their activity in what the group called "pro-military militias", and that the third was released because it was proven he was not involved with the military. The foundation could not manage to find out whether the two murdered brothers were involved with a pro-military tribal armed group.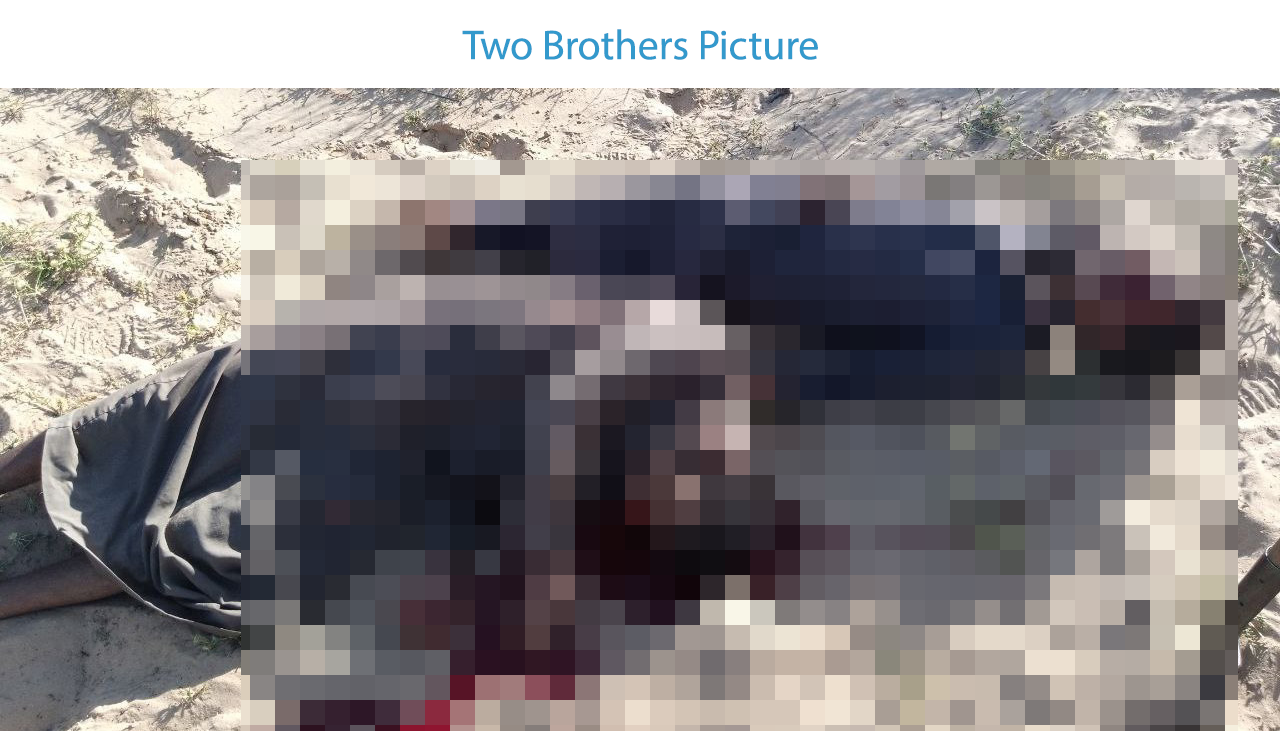 Forcing abducted civilians to pay a ransom for their release
The foundation team documented during April, the ISIS-affiliate Sinai Province group releasing 3 abducted civilians after forcing their families to pay large ransoms. The foundation had documented on 15 February 2022 ISIS's abduction of three civilian workers from Maghara area in central Sinai and their enforced disappearance for around two months. The abductees were: Walid Said Ahmed el-Helw, Amr Khaled Abdulaaty, and Mohamed Samy. The foundation published the details of the incident and the testimony of a relative of one of the victims' in its report on the human rights abuses that took place during the past February.
The foundation team met with Wael el-Helw, the abductee Walid Fathy Said el-Helw's brother to find out what had happened, and he said: "Walid is 46 and lives in El Senbellawein, Dakahlia. He has been working with a contractor in North Sinai for seven years. The contractor was in charge of work for the military, and Walid only transported water and food supplies in his truck for one of the military projects. On the day of the incident, Walid was at work and had his 7-year-old son Adam with him. Armed men showed up and took Walid but left his car and took one of Walid's colleagues' cars. Walid's son, Adam, witnessed the whole thing and he was so scared, he hid under the car and Walid's colleague is the one who brought him back to us. We reported his abduction at El Senbellawein police station, and they told us that since he was abducted in Arish, we had to go to Arish and report it there. We tried to go to Arish and were told we needed security clearance to be allowed into North Sinai since we don't live there. We can't even report his abduction, and no one is looking for him and letting us know what's happening. We accept Allah's plan, but we want to know if he's alive or dead, and if they want a ransom, they should contact us. All our phones are on 24/7 and we shared our numbers on Facebook. We appealed to everyone we could appeal to, and no security authority has contacted us, and we can't do anything".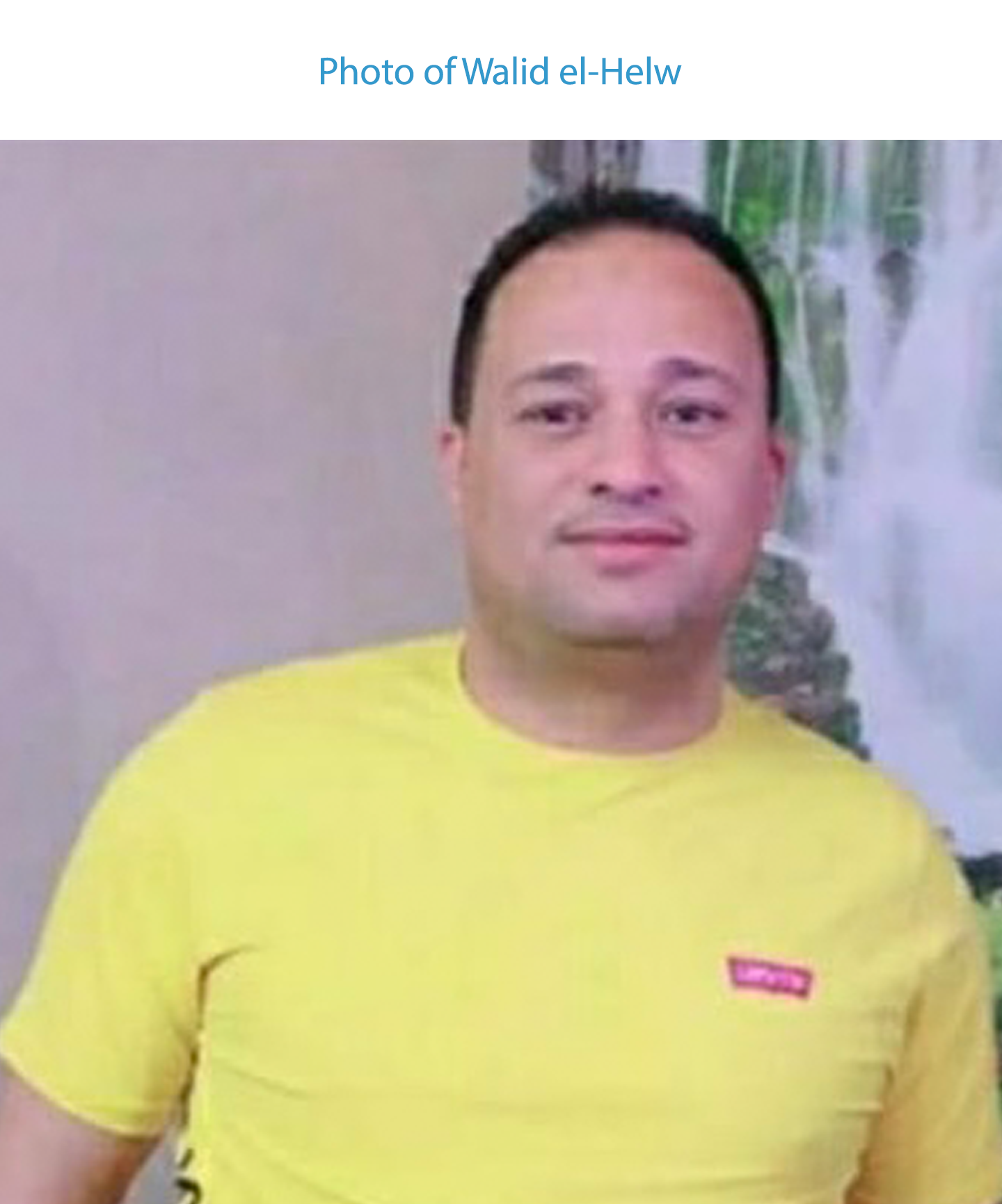 To find out updates on the situation, the foundation team once again met with Wael el-Helw last March. He told us he received a phone call from an unknown person who said they were a member of the Islamic State group. The individual called Wael on one of the phone numbers he shared on social media, and asked for a million-pound ransom for his brother's release, and he allowed Wael to talk to his brother for a few seconds to prove he was still alive. During the brief conversation between the brothers, Walid cried: "I am tired, and they torture me, hurry up and get me out of here", then the call was cut off.
Wael said that he failed to negotiate lowering the ransom with the caller, and that his negotiation attempts were faced with threats: "You either pay and get it over with, or we'll kill him, and you'll find his pictures on the internet". He added that members of the group stayed in constant contact with him till 9 March 2022 when he told them he was close to gathering the money needed to free his brother.
When asked about the Egyptian authorities' role in freeing his brother, Wael said that the family notified the police once they learned of the abduction, and they also spoke with the MP representing Dakahlia, Ahmed al-Awady, who promised them of tracing the number and trying to catch the abductors. Wael added that despite the many promises of great effort to find his brother and capture the abductors, none of that happened. "No one did anything for us. The authorities did not help us with money, and they didn't even look for the abductors like they said they would, they even stopped answering us. The chief detective of El Senbellawein police station refused to file a report to prove by brother had been abducted and asked us to file a report at the area where he was abducted, and when we tried to go file a report in Sinai, they refused to give us security clearance to go to Sinai. We appealed to MP Ahmed Rady, but he refused to help us with any money, told us my brother will inshallah be released, and hung up the call".
The foundation monitored on 8 April 2022 the release of two of the three abducted civilians, Amr Khaled Abdulaty and Mohamed Samy, while there was no news of Walid el-Helw. The foundation team once again got in contact with Walid's brother, Wael, who told us that they had spoken with members of the group three days earlier and told them that the ransom money was 200 thousand pounds short and asked them to wait a while longer till they managed to get all the money together. Wael said that the family is living with severe worry after the other two were released, scared that their brother might get hurt because the family could not manage to get the full amount of money till then.
The foundation later learned that the family paid the full ransom, and that the group told them their brother would be released in a few days, which is what did happen as on 26 April 2022, the foundation monitored the release of Walid el-Helw after his abduction by ISIS and disappearance for two months.
The foundation team managed on 10 May 2022 to conduct an interview with one of the three released abductees in an attempt to document the details of their suffering during the short period they spent in the group's clutches. The foundation publishes in this report a specific part of the freed abductee's testimony upon his request and to ensure his safety. He said:
​​​​​
We were taken on 15 February from Maghara area in central Sinai. We were abducted by 9 armed men carrying machine guns. The strange part is that they passed through a military ambush before reaching us, I don't know how they managed to get through. The military should answer to how a vehicle with terrorists and weapons could pass through and enter a military-projects zone without being shot at. We tried to notify the near-by ambush and we were seen, but they didn't make a move, even though it was 200 meters away, so they could have saved us. There are ambushes and vehicles stationed every 300 meters, but they're only there for show.
He added:
​​​​​​​Once they took the three of us, they blindfolded us so we couldn't recognize where we went or the way there. They passed by their own people every once in a while, they would stop and talk then keep going. That happened three or four times. We reached somewhere, it was probably a mountain area, and they put us in coops there, blindfolded. I recognized through their voices, most likely, that the ones who interrogated us were different from the ones who abducted us, and they asked us why we worked with the military, despite knowing that they're apostates and despite the group spreading warnings that whoever works with the military will be punished, and other questions along the same line. I pretended not to understand and kept saying that it was a way to make a living, and what could we do if the military took over all the projects in the country, where could we work and how could we feed our children! They told us that since we work to feed our children with haram money despite the group killing us for it, they would take all the money we collected and leave us here. They looked through our phones and made sure we did not work with the military or report people and took the phones. They asked for 5-million-pound ransoms from each of us which were reduced to 1 million each after negotiations with our families. We were all tortured for no reason because we didn't admit to anything, and they couldn't find anything that could prove us guilty on our phones because we're only workmen. They hit us with chains and our bodies were badly hurt and cut, and all three of us were released when our families paid the money".

No one forced us to pray because we already do pray, and for the food, they fed us once a day, bad food no one can eat, I don't even know what it was, and water was salt water we couldn't drink. They wouldn't let us shave or cut off our beards, we could cut our moustaches with scissors or shave them off, but we were not allowed to shave our heads or beards, so we all looked alike. If we'd tried to escape, the military would have killed us because we looked like the terrorists. Of course, there were no bathrooms, we were allowed to walk about 20 meters away for the bathroom and only throughout the day, no one was allowed to move during the night. The drones were useless, they knew they were coming when they were 2 kilometers away because of their noise and they would sit still, not even hide, because their areas are surrounded by trees, so they didn't need to use tunnels or anything like we hear. We felt hopeless and I had nightmares where they killed us, and my family watched the video of me being killed on the internet like we've seen others. I believed we would die there, no one would pay and get us out, especially since we stayed there a long time.
The International Humanitarian Law prohibits strategized abductions and enforced disappearances. The United Nations declaration on enforced disappearances, unanimously approved, states that enforced disappearances are a violation of a range of rights, including the right to recognition as a person before the law, the right to liberty and personal security, the right not to be tortured or treated or punished in an inhuman or degrading way, and it also states that they violate the right to life, or pose a serious threat to it. The International Criminal Court also considers it to be "a crime against humanity".
English content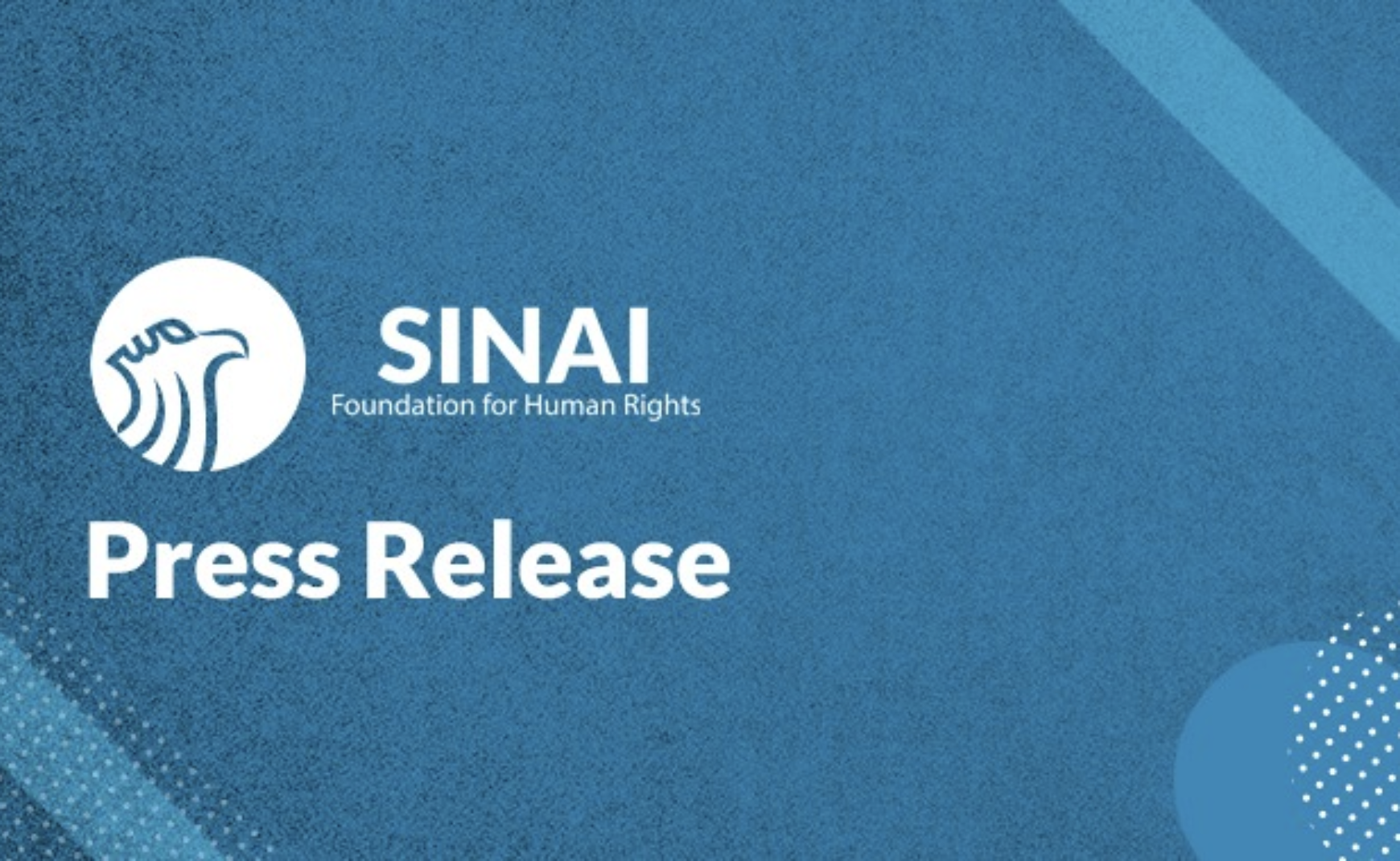 English content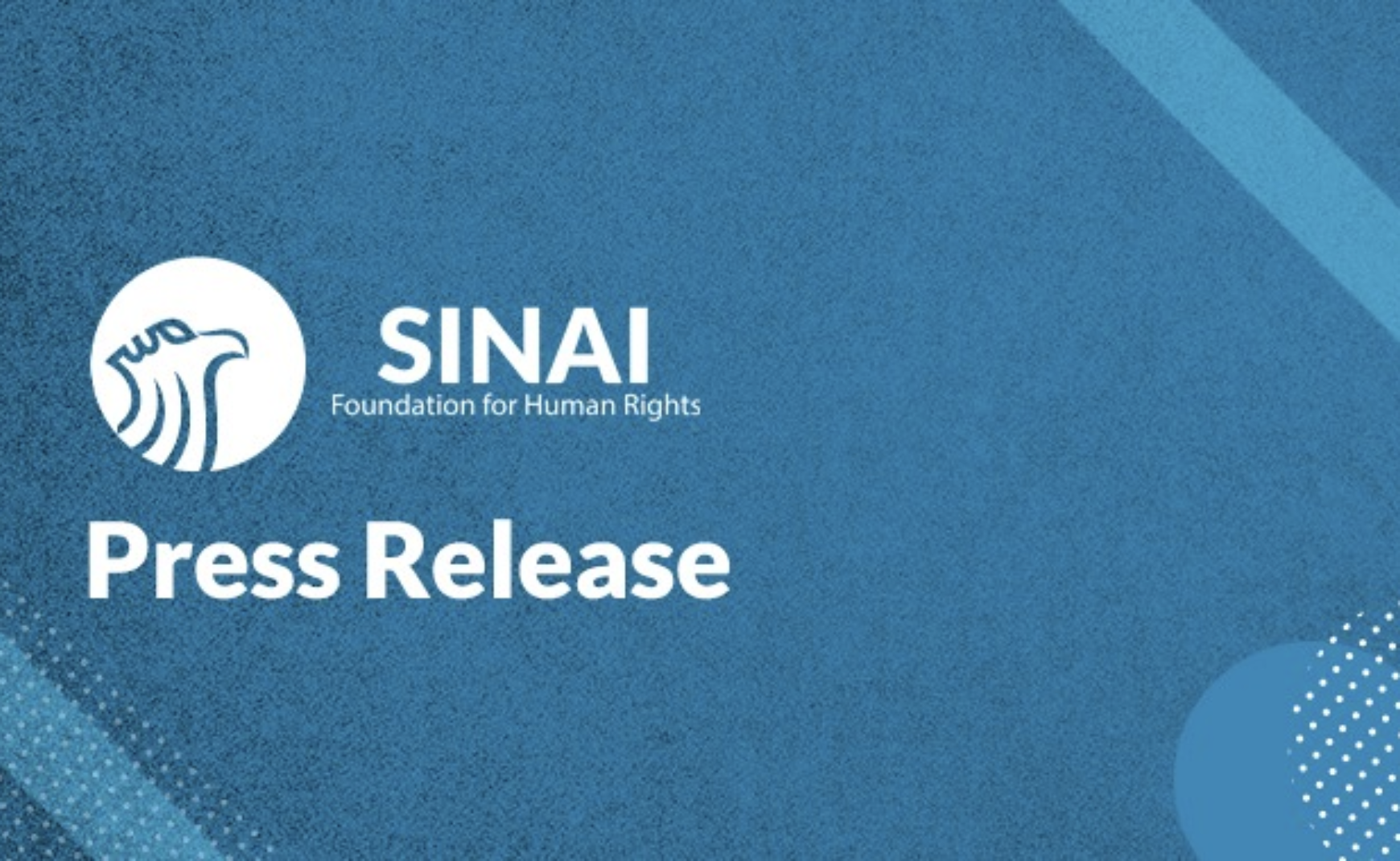 English content